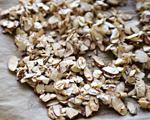 Prep: 5 min
Cook Time: 25 min
Total: 30 min
Serving: Makes 1-1/4 cup glazed almonds
Glazed almonds slices are a wonderful addition topped on salads, soups and stir-fries. You can also glaze whole almonds to enjoy as a healthy and satisfying snack.
Ingredients
2 tablespoons melted butter
1 egg white
1/4 cup sugar
3/4 teaspoon salt
1-1/4 cups sliced almonds
Directions
Preheat your oven to 350 degrees and line a baking sheet with parchment paper.
Place the melted butter, egg white, sugar and the salt into a bowl and whisk well to combine. Add the sliced almonds to the bowl and toss well to coat.
Transfer the coated almonds to the prepared baking sheet, and spread into a thin layer. Place the almonds in the oven and bake for 25 minutes, tossing every 6 minutes to ensure even cooking.