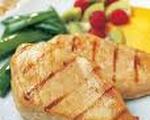 Prep: 15 min
Cook Time: 15 min
Total: 30 min
Serving: 8
Gingered Coconut Chicken Strips make a great appetizer.
Ingredients
1/3 cup sour cream
2 tablespoons crushed pineapple with juice
1 teaspoon ground ginger, divided
3/4 teaspoon curry powder, divided
3/4 cup coconut, flaked
3 tablespoons plain dry breadcrumbs
1/3 teaspoon cayenne
1, 14 ounce package chicken tenders
2 tablespoons honey
1 teaspoon lemon juice
Directions
In a small bowl blend sour cream, pineapple, 1/4 teaspoon of the ginger and 1/4 teaspoon of curry powder. Cover and refrigerate until serving.
Preheat oven to 400 degrees F. Coat baking sheet with cooking spray; set aside. In blender, combine coconut, breadcrumbs, remaining ginger and curry and cayenne. Blend. Place in shallow dish; set aside.
Sprinkle chicken tenders with salt. Cut tenders in 1/2 crosswise. Blend honey and lemon juice in a separate shallow dish. Coat chicken pieces in honey and then in coconut mixture. Place on baking sheet. Bake 12 to 15 minutes or until chicken is tender and no longer pink.
Serve chicken with sour cream sauce.