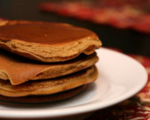 Prep: 5 min
Cook Time: 10 min
Total: 15 min
Serving: 6
A family-friendly breakfast dish, these spicy pancakes are a delicious way to start the day. Serve with real maple syrup and butter or yogurt.
Ingredients
1 cup baking mix
2 tablespoons ground flax
1 teaspoon ground cinnamon
1/4 teaspoon ground ginger
1/4 teaspoon ground cloves
Pinch of ground black pepper
1/2 teaspoon pure vanilla extract
1 egg
Milk
Directions
Preheat griddle to medium heat.
Whisk together baking mix, flax and spices in a bowl with a pour spout.
Whisk in vanilla, egg and enough milk to form a pourable batter. Use more milk for thinner pancakes and less milk for thicker ones.
Spray griddle with nonstick cooking spray.
Pour batter onto griddle in 1/4-cup increments.
Cook for 2 minutes or until pancake edges are just set and bubbles are bursting on the surface.
Flip with a spatula and cook for another 1 to 2 minutes or until lightly browned on both sides.