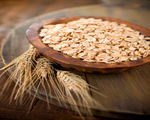 Prep: 15 min
Cook Time: 4 min
Total: 19 min
Serving: 12
Pancake and waffle mixes come in handy on mornings when you are short on time or lack the desire to measure out dry ingredients for breakfast. A homemade, wholesome mix is more economical and just as convenient as store-bought when made ahead. Keep this gingery mix in a sealed container and a nutritious eye-opening plate becomes as simple as heating a griddle, a quick scoop and a few wet-ingredients. As a low-sugar alternative to maple syrup, top your warm 'cakes or waffles with fresh blueberry compote, a sprinkle of chopped nuts and a dollop of tangy plain yogurt. The sweet berries and yogurt will tang remarkably with the hot bite of ginger.
Ingredients
1 cup all-purpose flour
1 cup whole wheat flour
1 cup finely ground oatmeal (or oat flour)
1/4 cup brown sugar
1 tablespoon baking powder
1 teaspoon baking soda
Pinch salt
1 to 2 teaspoons ground cinnamon
1/2 cup crystallized ginger, minced
Wet ingredients for making the pancakes:
1 large egg
1/2 cup buttermilk
1 teaspoon vanilla extract
1 cup dry mix (above)
Nonstick cooking spray, butter or oil
Dry ingredients for the pancake mixture:
Directions
In a medium bowl, whisk together egg, milk and vanilla.
Blend in the mix and let batter rest for five to ten minutes to fully incorporate.
Meanwhile, preheat your griddle or pan on medium heat or 350 degrees F.
Lightly grease the griddle with nonstick cooking spray or one teaspoon of butter or oil.
Pour 1/4 cup of batter on griddle and cook until edges are set and bubbles gently burst on surface, about two to four minutes (depending on the griddle or pan). Carefully flip and cook for another minute or until second side is lightly browned.
Repeat with remaining batter.
If your griddle is large enough, cook more than one pancake at a time.
Keep warm by covering with a towel or place in the oven (without towel) on very low heat until ready to serve.