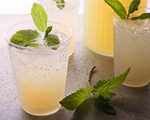 Prep: 2 hr 5 min
Cook Time: 5 min
Total: 2 hr 10 min
Serving: Makes 12 cocktails
Adding freshly grated ginger to classic Mojitos made with fresh mint gives this summer favorite even more intense flavor and pizzazz.
Ingredients
1 cup granulated sugar
1 cup water
1 (4-inch) piece fresh ginger, peeled and grated
2 cups tightly packed fresh mint leaves
1 (750-milliliter) bottle white rum
1-1/2 cups freshly squeezed lime juice
Ice
2-1/4 cups club soda, chilled
12 fresh mint sprigs
Directions
Place the sugar, water and ginger in a small saucepan over high heat and bring to a boil stirring frequently.
Cook the mixture for 5 minutes and then remove from heat. Stir in the fresh mint leaves and then let the mixture sit for 1 hour to allow flavors to infuse.
Stain the syrup into a glass container, discarding any remaining solids, and then pour in the rum and lime juice. Stir, cover and place in the refrigerator to chill.
Fill a tall glass with ice and then add 1/2 cup of the prepared Mojito mix. Top the drink with some club soda and lightly stir to combine the mixture.
Serve garnished with a sprig of mint.