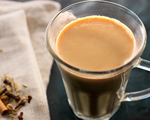 Prep: 6 min
Cook Time: 5 min
Total: 11 min
Serving: 6 Servings
There are numerous recipes for chai with a multitude of different spices and combinations. This recipe is for a ginger, clove, fennel and cardamom blended chai.
Ingredients
3 cups water
3 cups whole milk
2 whole cloves, lightly crushed
1 4-inch cinnamon stick
1 (1/2-inch) piece fresh ginger, sliced thinly
1 tablespoon fennel seeds, lightly crushed
6 whole cardamom pods, lightly crushed
5 tablespoons granulated sugar
3 tablespoons unflavored loose black tea
Directions
Put the water, milk, cloves, cinnamon, ginger, fennel, cardamom and sugar into a medium-sized saucepan over medium heat and bring to a boil.
Once boiling, reduce heat to low and simmer the mixture for 5 minutes.
Take the pan off the heat and stir in the tea. Allow the mixture to steep, covered, for 6 minutes and then strain and serve.