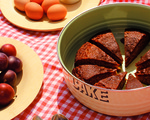 Prep: –
Cook Time: –
Total: –
Serving: Makes 8 generous wedges
My son recently came across a copy of what was my favorite cookbook at his age, The Pooh Cookbook, with recipes by Katie Stewart, and I couldn't resist making the honey cake I remembered as being especially good. To give the cake an extra bite I've included more warm and spicy ginger, which elevates the cake to new heights for me. Don't worry if it seems to sink a little in the center -- many of the best cakes do, and it'll still be perfectly gorgeous. But if this really worries you, bake it in a 9-inch brownie pan for 30–35 minutes instead.
From The Camping Cookbook by Annie Bell, Kyle Books, 2010.
Ingredients
10-1/2 tablespoons unsalted butter
1/2 cup light brown sugar
3/4 cup country-style honey
2 medium eggs
1 cup plain flour
2 teaspoons baking powder
2 teaspoons ground ginger
A pinch of sea salt
Directions
Preheat the oven to 350 degrees F and butter and line the bottom of an 8-inch springform pan with parchment paper.
Gently heat the butter, sugar and honey in a small saucepan until melted and leave to cool for about 10 minutes.
Beat in the eggs, then sift in the flour, baking powder and ginger. Fold into the mixture and add the salt.
Pour into the prepared pan, giving it a couple of sharp taps to bring up any air bubbles, and bake for 35–40 minutes, until a knife inserted into the center comes out clean.
Leave to cool, then remove the sides and the parchment paper and either wrap in foil or store in an airtight container.