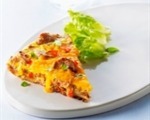 Prep: 20 min
Cook Time: 15 min
Total: 35 min
Serving: 6 servings
A hearty hash brown, sausage and vegetable breakfast skillet made with Kellogg's All-Bran® cereal
Variation: For Turkey Bacon and Hash Brown Breakfast Skillet, replace the cooked turkey sausage with six slices cooked and crumbled turkey bacon.
Ingredients
125 millilitres (1/2 cup) All-Bran Buds® or All-Bran Original® cereal
30 millilitres (2 tablespoons) butter
1 onion, minced
125 millilitres (1/2 cup) celery
1 red pepper, diced
4 turkey sausages, cooked, drained and sliced
250 millilitres (1 cup) frozen diced hash brown potatoes
4 eggs
50 millilitres (1/4 cup) 2-percent milk
250 millilitres (1 cup) grated old cheddar cheese
2 millilitres (1/2 teaspoon) each salt and freshly cracked pepper
Directions
Add butter to a large oven-proof skillet over medium-high heat. Add cereal, onion, celery and red pepper, and cook for two to three minutes until vegetables are tender-crisp. Add hash browns and sausage, turning often until potatoes are browned.
Whisk eggs and milk in a small bowl. Pour mixture into skillet, gently stirring, for three minutes, so eggs begin to set on the bottom. Sprinkle with cheese and bake in a 220-degree C. (400-degree F.) oven until the cheese is melted and golden, and the eggs are set, about 15 minutes.