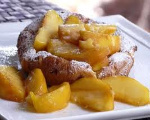 Prep: 15 min
Cook Time: 22 min
Total: 37 min
Serving: 4 servings
A giant pancake topped with peaches, perfect for a special breakfast.
Ingredients
1 tablespoon margarine
2 eggs
1 cup skim milk
1 cup flour
4 ripe peaches
1/4 cup orange juice
1/4 cup cream or sour cream
Directions
Preheat oven to 450 degrees Fahrenheit. Melt the margarine in the bottom of a 10-inch casserole dish in the oven.
Beat together the eggs and milk. Beat in the flour until smooth.
Pour the batter into the dish and bake for 15 minutes. Reduce the heat to 350 degrees Fahrenheit and bake for 7 more minutes, or until puffy and golden.
Peel and slice the peaches, marinate in the orange juice while the pancake bakes.
Top the pancake with the peaches and cream to serve.