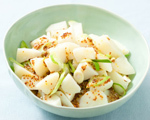 Prep: 10 min
Cook Time: 8 min
Total: 18 min
Serving: 6 Servings
Dress the salad while the potatoes are hot to help infuse the taste of the vinaigrette, and then serve immediately. White balsamic vinegar may be used instead of the cider vinegar for a lighter and slightly sweeter taste.
Ingredients
2-1/2 pound boiling potatoes peeled and cut into 1/2-inch thick pieces, about 6 cups
1/4 cup cider vinegar
1 tablespoon whole-grain mustard
3 tablespoons olive oil
1 teaspoon sugar
1/2 teaspoon sea salt
1/2 teaspoon freshly ground black pepper
1 cup scallions, shopped
Directions
In a small bowl, whisk together the vinegar, mustard, oil, sugar, salt and pepper until thoroughly blended and then set aside.
Place the potatoes into a large pot of salted boiling water, bring back to a boil and cook for 8 minutes. Drain the potatoes, place into a large salad bowl and then sprinkle in the scallions.
Immediately pour the dressing over the hot potatoes, gently toss to coat and then serve at once.