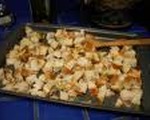 Prep: 30 min
Cook Time: 50 min
Total: 1 hr 20 min
Serving: 8
Oysters are the star ingredient in Gary's Favorite Stuffing.
Ingredients
2 cups celery, chopped
2 cups onion, chopped
1 cup butter
1 large can oysters, chopped
5 cups dry bread cubes
1 1/2 cups cooked giblets, chopped
1 3/4 teaspoons salt
1 teaspoon ground pepper
1/4 cup parsley, chopped
1/4 teaspoon each sage, poultry seasoning
1 can cream of mushroom soup
1 can mushrooms, chopped
Directions
Saute celery and onion in 3/4 cup butter in large skillet until tender.
Drain oysters, reserving broth.
Combine remaining 1/4 cup butter, oysters and next 7 ingredients in large bowl, tossing lightly. Add celery and onions, mixing lightly.
Mix reserved oyster broth with soup in bowl. Fold into bread mixture, mixing thoroughly. Add mushrooms and enough water for desired moisture. Pour into a baking pan. Bake at 325 degrees F for 40 minutes.