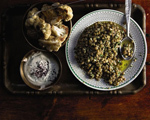 Prep: 10 min
Cook Time: 35 min
Total: 45 min
Serving: Serves 2-4
This Lebanese lentil salad made with garlic, cumin, fresh mint and allspice, is ideal served alone or as a side to grilled or roasted lamb.
Ingredients
1 cup green lentils, rinsed
6 tablespoons extra-virgin olive oil
12 cloves garlic, minced
3 tablespoons fresh lemon juice
1 teaspoon ground cumin
1/4 teaspoon ground allspice
1 tablespoon minced flat-leaf parsley
1 tablespoon minced fresh mint
Sea salt and freshly ground black pepper
Directions
Place the lentils in a pot with 3 cups of water and bring to a boil. Once boiling, reduce the heat to medium-low and simmer the lentils for 35 minutes. Drain and place in a salad bowl.
In the meantime, place 2 tablespoons of olive oil in a medium sauté pan over moderate heat and sauté the garlic for 7 minutes.
Take the pan off the heat and add the lemon juice, cumin, allspice and remaining olive oil. Whisk thoroughly until blended and then pour the mixture over the cooked lentils. Toss to coat.
Add the parsley, mint and a few pinches of salt and pepper to the lentil salad and then toss again to combine.