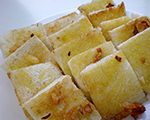 Prep: 10 min
Cook Time: 10 min
Total: 20 min
Serving: 8 Servings
Instead of serving regular crackers or chips with your next party dip, offer these homemade cocktail toasts made with fresh garlic and Parmesan cheese.
Ingredients
16 slices cocktail rye bread
16 slices cocktail pumpernickel bread
1/3 cup butter, melted
1 teaspoon finely chopped fresh garlic
1/2 cup freshly grated Parmesan cheese
Directions
Preheat the oven to 400 degrees.
Using a square cookie cutter, cut squares out of each bread slice.
Place the melted butter and garlic in a small bowl and mix to combine. Brush each square of bread on both sides and place onto a baking sheet.
Bake the toasts for 5 minuets, flip, sprinkle with the Parmesan cheese and then bake for an additional 5 minutes.