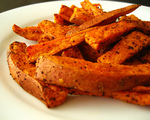 Prep: 15 min
Cook Time: 35 min
Total: 50 min
Serving: 4 People
If your kids love French fries, but you hate feeding them fried foods, try this oven-baked sweet potato fries recipe.
Ingredients
2 large sweet potatos cut into wedges
1/2 teaspoon ground garlic
1/2 teaspoon salt
1/4 teaspoon pepper
2 tablespoons extra virgin olive oil
Directions
Combine the spices in a small bowl.
Preheat oven to 400 degrees Fahrenheit.
Place the potato wedges in a large bowl and mix the spices and the oil with the potato wedges. Toss until coated evenly.
Spread the potatoes evenly on a baking sheet.
Place the baking sheet on the center rack of the oven and bake approximately 30 minutes, or until the edges of the fries look crisp.