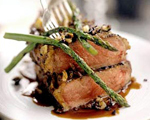 Prep: 10 min
Cook Time: 15 min
Total: 25 min
Serving: 2 Servings
The combination of grilled steak with asparagus always makes a winning pair.
Ingredients
1 12- to 14-oz. boneless beef top loin (strip) steak, cut about 3/4 inch thick
2 large cloves garlic, coarsely chopped
1/2 teaspoon cracked or coarsely ground black pepper
1/4 teaspoon salt v
10 thin asparagus spears, trimmed (6 oz.)
2 teaspoons olive oil
1/2 cup beef broth
1 tablespoon dry white wine
1/4 teaspoon Dijon-style mustard
Directions
Prepare the grill on medium heat.
To prepare ingredients for grilling, rub both sides of the steak with the garlic, pepper, and salt and drizzle the asparagus with the olive oil.
In a medium-sized saucepan over high heat, add the broth and wine and bring to a boil. Cook the mixture for 5 minutes and then whisk in the Dijon mustard.
Place the steak onto the grill and cook for about 8 minutes, turning once, for medium-rare doneness.
Add the asparagus onto the grill during the last 4 minutes of cooking.
Slice the steak and place onto a plate with the asparagus. Spoon the wine sauce over the top and serve.