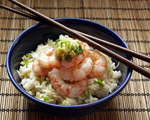 Prep: 1 hr 10 min
Cook Time: 5 min
Total: 1 hr 15 min
Serving: 4 Servings
If you are looking for a delicious meal with lean protein try this recipe for sautéed garlic shrimp and serve over white rice.
Ingredients
3/4 cup olive oil
1/2 cup coarsely chopped white onion
3 large garlic cloves, chopped
1 teaspoon fine sea salt
1/2 teaspoon ground black pepper
16 uncooked jumbo shrimp, deveined
Directions
Place 1/2 cup of the olive oil, the onion, garlic, salt and pepper into a blender, and process until smooth.
Put the shrimp into a bowl and pour in the marinade. Let the shrimp marinate for 1 hour to absorb the flavors.
Place the remaining oil into a large sauté pan over high heat; add the shrimp and sauté for 4 minutes. Serve immediately.