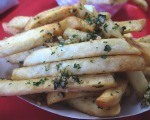 Prep: 15 min
Cook Time: 50 min
Total: 1 hr 5 min
Serving: Serves 10 people
A sophisticated twist to a traditional favorite, Garlic Seasoned Fries will be a hit at your next holiday party.
Ingredients
3 pounds of peeled baking potatoes
5 teaspoons vegetable oil
1 teaspoon of salt
3 tablespoons butter
Nonstick cooking spray
1/4 cup minced garlic
2 tablespoons chopped parsley
2 tablespoons Parmesan cheese
3 tablespoons bacon bits (optional)
Directions
Heat oven to 400 degrees. Cut potatoes into 1/4-inch strips. Combine potato strips, oil, salt and pepper in a large plastic bag and toss to coat.
Spread potatoes in a single layer onto a baking pan, leaving space between the potatoes. Bake for 20 minutes and turn potato strips. Bake for 30 more minutes, or until golden brown.
Place butter and garlic in a large nonstick skillet. Cook for 2 minutes, stirring constantly; add potatoes, parsley, and bacon bits. Toss to coat in garlic mixture. Serve alongside tasting forks.