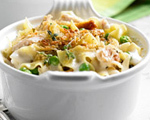 Prep: 10 min
Cook Time: 20 min
Total: 30 min
Serving: 4 Servings
This recipe can be made with a purchased roasted chicken, or use leftover chicken or turkey from the night before.
Ingredients
6 ounces extra-wide egg noodles
1 2-pound purchased roasted chicken
1 cup frozen peas
4 cloves garlic, minced or 2 teaspoons bottled minced garlic
1-3/4 cups whole milk or light cream
1/2 slice white or wheat bread
3/4 cup shredded Parmesan cheese
Directions
Preheat your oven to 450 degrees.
Cook the noodles according to package directions, drain and then place back into the cooking pot.
In the meantime, remove the meat from the chicken, shred and place in a large saucepan, along with the peas, garlic, and whole milk. Stir to combine over moderate heat until the mixture is hot.
Place the bread into a food processor and process on high to make breadcrumbs, and then transfer to a small bowl. Stir in 1/4 cup Parmesan and 2 tablespoons of melted butter.
Place the chicken mixture into the pot with the noodles and remaining cheese. Toss to combine and cook over moderate heat until mixture is bubbling.
Transfer the noodle mixture to a large baking dish, or 4 individual casserole dishes. Sprinkle the breadcrumb mixture in top of the noodle mixture and then place in the oven for about 7 minutes or until golden brown. Serve immediately.