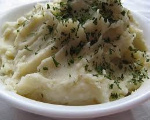 Prep: 20 min
Cook Time: 20 min
Total: 40 min
Serving: 4 servings
A classic favorite, garlic roasted potatoes!
Ingredients
2 1/4 pounds russet or Yukon gold potatoes
1 whole garlic bulb
1 tablespoon olive oil
1/2 cup sour cream
2 tablespoons butter
1/8 teaspoon salt
1/8 teaspoon black pepper
fresh chives
Directions
Preheat oven to 375 degrees Fahrenheit
Peel and cut potatoes into even sized pieces. Add to a large pot of slightly salted water. Bring to a boil then reduce to a simmer until cooked through, roughly 20 minutes.
Separate but do not peel, garlic cloves. Place in a bowl with olive oil and toss to coat. Place on a baking sheet and roast in the oven for about 10 minutes or until softened. Cool slightly.
Drain potatoes. Return to the pot and slightly mash. Add in the sour cream and butter. Squeeze in the pulp from the garlic cloves, add in the salt and pepper.
Mash potatoes until well blended and smooth. Pour into a serving bowl and sprinkle with chopped chives.