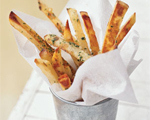 Prep: 30 min
Cook Time: 4 min
Total: 34 min
Serving: 4 Servings
Ever been to AT&T stadium in downtown San Francisco? They have amazing food but most importantly, legendary garlic fries that are a fan favorite. Don't skimp on the garlic in this recipe, the more the merrier with these fries.
Ingredients
2-1/2 cups vegetable oil for frying
4 Russet potatoes or 12 ounce bag of frozen pre cut fries
1/2 cup fresh minced garlic
1/4 cup kosher salt
1 tablespoon black pepper
1 tablespoon dried thyme
2 tablespoons extra virgin olive oil
Directions
If using fresh potatoes (preferred), scrub the potatoes and cut into 1/2-inch thick strips using a potato cutter or French mandolin.
In a small sauté pan heat the 2 tablespoons of oil over high heat and fry the garlic for 30 seconds. Remove from pan and mix well with the salt, pepper and thyme. Set aside.
In a large sauté pan, heat the vegetable oil until temperature measures 360 degrees with a cooking thermometer. Drop in the fries and cook for 90 seconds, then remove from oil and briefly drain. Place the fries back into the oil for another 1-1/2 minutes and then remove and drain again.
Place fried in a bowl and toss with the garlic mixture. Serve immediately.