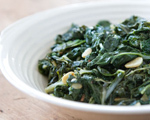 Prep: 5 min
Cook Time: 10 min
Total: 15 min
Serving: 4 Servings
A simple and extremely healthy side dish that pairs well with almost any meal.
Ingredients
2 large bunches greens (chard, collards, kale or mustard), rinsed and roughly chopped
2 tablespoons Extra Virgin Olive Oil
4 cloves garlic, thinly sliced
Few pinches red pepper flakes
1 tablespoon balsamic vinegar
sea salt, plus more to taste
Directions
Place a large sauté pan over medium-high heat and add the olive oil.
Once the oil begins to shimmer, add the garlic and pepper flakes, sauté for 20 seconds, and then add in the greens tossing to combine.
Pour in the vinegar and then add a few pinches of salt. Cover the pan and cook the greens for about 6-8 minutes.