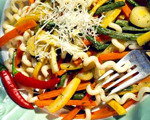 Prep: 15 min
Cook Time: 15 min
Total: 30 min
Serving: 4 Servings
A trip to your local farmers market is all you need for this fabulous garden veggie pasta. Serve with a bottle of white Pinot Grigio.
Photo originally appeared on bhg.com
Ingredients
4 ounces fusilli
1/3 cup dry white wine
1/4 teaspoon salt
1/2 teaspoon fresh red cayenne chili pepper, seeded and finely chopped or 1/8 teaspoon ground red pepper
2 tablespoons olive oil
3 medium carrots, cut into julienne strips (1-1/2 cups)
1-1/2 cups green beans bias-sliced into 2-inch pieces
2 medium leeks (8 ounces), cut into 1/2-inch-thick slices (2/3 cup)
1 tablespoon snipped fresh basil
1 tablespoon snipped fresh dill
1 clove garlic, minced
1 medium yellow summer squash, cut into julienne strips (1-1/2 cups)
2 tablespoons water
Asiago or Parmesan cheese
Directions
Cook the fusilli according to package directions.
In the meantime, place the wine and salt into a small bowl and stir to combine; set aside.
Place 2 tablespoons of olive oil into a wok or a large sauté pan over medium heat. Once it begins to shimmer, add the carrots, beans, leeks, basil, dill, and garlic and sauté for 3 minutes. Then add the squash fresh red cayenne chili pepper, cover the pan and cook for an additional 6 minutes.
Transfer the hot pasta to the pan with the vegetable mixture, add the wine mixture and toss to combine. Serve immediately topped with the cheese.