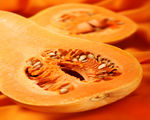 Prep: 15 min
Cook Time: 25 min
Total: 40 min
Serving: 6
A noble bunch of fresh sage leaves makes this thick stew taste regal. The melding of fiber-rich garbanzo beans and sweet butternut squash seduces you to inhale its rich aroma and savor every hearty spoonful.
Ingredients
2 teaspoons olive oil
1 large onion, chopped (about 2 cups)
2 cloves garlic, minced
2 tablespoons fresh gingerroot, minced
1/2 teaspoon salt (or to taste)
1/2 teaspoon black pepper
1 teaspoon cinnamon
1, 3-pound butternut squash, peeled, cubed (about 5 cups)*
2, 15-ounce cans garbanzo beans or chickpeas, drained, rinsed
1 cup apple cider
2 cups water or chicken broth
1 cup chopped fresh sage leaves or basil leaves
Directions
Warm olive oil in a large nonstick stockpot over high heat.
Cook onion, garlic, and ginger, stirring frequently, until onion is soft and translucent, about 5 to 7 minutes.
Stir in salt, black pepper and cinnamon, cooking until fragrant, about 1 minute.
Add butternut squash and cook, stirring constantly, for 3 to 5 minutes.
Stir in garbanzo beans, cider, and water or broth. Cover and let come to a boil.
Reduce heat to medium and continue to cook, covered, until squash is just tender, about 10 minutes. Uncover and allow liquid to reduce and thicken, about 10 more minutes.
Use a potato masher or a spoon to break up some of the squash to further thicken stew.
Stir in fresh sage and remove from heat.
Serve warm with crusty bread and a crisp green salad.
Stew will thicken as liquid absorbs into the squash. Reheat leftovers with a couple tablespoons of water in the microwave or on the stovetop.