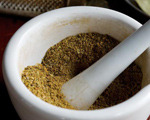 Prep: 5 min
Cook Time: 3 min
Total: 8 min
Serving: Seasoning for 4 pounds of meat, poultry or seafood
Many people mistake Garam Masala as a single Indian spice when in actuality it is a blend of spices of which there are numerous recipes. Use this mix within 6 months to keep flavors at their freshest.
Ingredients
3 tablespoons cumin seeds
3 tablespoons coriander seeds
1 tablespoon black peppercorns
2 teaspoons green cardamom pods
1 teaspoon black cardamom pods
1 piece (2 inches) cinnamon stick
1/2 whole nutmeg
2 bay leaves
1/2 teaspoon mace blades
1/4 teaspoon whole cloves
1 teaspoon ground ginger
Directions
Place the cumin seeds, coriander seeds, peppercorns, green and black cardamom pods, cinnamon stick, nutmeg, bay leaves, mace, and cloves into a large sauté pan over medium heat. Toast the spices for 3 minutes, shaking the pan frequently, and then place into a bowl to cool.
Transfer the spices to a spice grinder or a mortar and pestle, and grind into a powder. Store the mixture in an air-tight jar, and place in a cool and dry area.