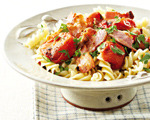 Prep: 20 min
Cook Time: 20 min
Total: 40 min
Serving: 4 Servings
Try accompanying this dinner dish with a bottle of American Pinot Noir or an Italian Pinot Grigio, and serving with a peppery arugula side salad.
Ingredients
14 ounces fusilli
1 clove garlic, crushed
1 handful flat leaf parsley, chopped
1/2 pound bacon
4 tablespoons olive oil, plus extra for greasing and drizzling
1-1/3 pounds plum tomatoes, halved lengthwise
2 tablespoons balsamic vinegar
Sea salt and freshly ground black pepper
Freshly grated cheese
Directions
Preheat your oven to 400 degrees and grease a baking sheet with some olive oil.
Place the bacon on the prepared baking sheet in a single layer (do not overlap) and then cook in the oven for 10 minutes, turning once halfway through the cooking time. Transfer the bacon to a plate, cut into pieces and then cover to keep warm.
Arrange the tomatoes on the same baking sheet, cut side down, and place in the oven for 10 minutes, flipping once halfway through the cooking time. Remove the tomatoes from the oven, sprinkle with some balsamic vinegar and a few pinches of salt and pepper, and then chop into pieces.
In the meantime, cook the pasta according to package directions, drain and return to pot. Add the cooked tomatoes, garlic, olive oil and parsley and toss well to combine. Serve the pasta topped with the bacon and some freshly grated cheese.