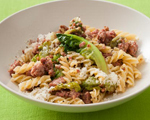 Prep: 30 min
Cook Time: 15 min
Total: 45 min
Serving: 4 Servings
A simple yet delicious Italian-inspired meal that the entire family will enjoy; substitute the fusilli for your favorite pasta if desired.
Ingredients
12 ounces Italian sausage
2 tablespoons extra-virgin olive oil
2 garlic cloves, thinly sliced
2 hearts of romaine
1 pound fusilli
1/2 pound grated Parmesan cheese
Directions
Prepare the pasta according to package directions making sure to reserve 1 cup pasta cooking water.
In the meantime, remove and discard the sausage casings and set aside.
Place the oil in a large sauté pan over medium heat and sauté garlic for 1 minute. Add the sausage and break into pieces while cooking for 6 minutes.
Add the romaine and cook for an additional 2 minutes before transferring the sausage mixture into the pot with the pasta.
Add the cheese and the reserved pasta liquid and toss the entire mixture together until well combined. Add salt and pepper to taste, toss once again and then serve immediately.