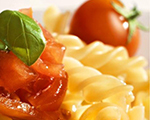 Prep: 15 min
Cook Time: 10 min
Total: 25 min
Serving: 4 Servings
This pasta recipe has all the fresh and robust flavors of Italian cuisine. Enjoy this dish with a Tuscan wine, like Brunello, that compliments the tangy tomato and rich prosciutto.
Ingredients
8 ounces fusilli
4 cups sliced fresh mushrooms
1/4 cup chopped onion
1 clove garlic, minced
1-1/2 tablespoons olive oil
3/4 cup chicken broth
1 teaspoon all-purpose flour
2 cups red and/or yellow cherry tomatoes, halved
1/4 cup finely chopped prosciutto
2 tablespoons snipped fresh basil
1 tablespoon snipped fresh oregano
1/4 cup shredded Parmesan cheese
Directions
Cook the pasta according to package directions, drain and then transfer back into the pan.
In the meantime, place the oil in a large sauté pan over medium-high heat, and sauté the onions, garlic and mushrooms for 5 minutes.
In a small bowl, combine the chicken broth with the flour and stir until combined. Add the broth mixture to the mushroom mixture and cook for 1 minute over medium heat.
Add the tomatoes, prosciutto, basil and oregano and cook until heated through. Pour the tomato sauce over the pasta and toss to coat.
Serve the pasta sprinkled with Parmesan cheese.