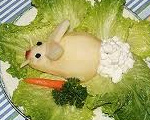 Prep: –
Cook Time: 10 min
Total: 10 min
Serving: Makes 6
Pear bunnys with cheese, olives and cherries.
Ingredients
6 lettuce leaves
1 (16 ounce) carton cottage cheese
2 (16 ounce) cans pear halves, drained
3 slices American cheese, cut in half
6 green olives stuffed with pimento, cut in half
3 maraschino cherries, cut in half
Directions
Place the lettuce leave in the enter of a plate. Add a scoop of cottage cheese for a head. Place a pear half, cut side down, below it for the body. Cut another pear half in half and arrange as ears at top.
Use the olive halves as eyes. cherry half for a mouth and cut the half of cheese into 6 pieces and place as whiskers, finally a dollop of cottage cheese for a tail.