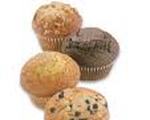 Prep: 15 min
Cook Time: 15 min
Total: 30 min
Serving: 8
Fudgy Banana Muffins combine the best flavors in a tender muffin.
Ingredients
1 1/4 cups flour
1 cup whole wheat flour
3/4 cup brown sugar
1 1/2 teaspoons baking powder
1 teaspoon baking soda
1/4 teaspoon salt
3 medium ripe bananas, mashed
1 1/4 cups milk
1 egg
1 tablespoon vegetable oil
2 teaspoons vanilla extract
6 milk chocolate candy bars, 1.55 ounces each
Directions
In a mixing bowl, combine the flours, brown sugar, baking powder, baking soda and salt.
In another bowl, combine bananas, milk, egg, oil and vanilla; stir into dry ingredients just until moistened.
Fill paper lined muffin cups one third full. Break each candy bar into 12 pieces; Place 2 pieces in each muffin cup. Top with remaining batter. Chop remaining candy bar pieces; sprinkle over batter.
Bake at 400 degrees F for 15 minutes or until muffins test done. Cool for 5 minutes before removing from pans to wire racks.