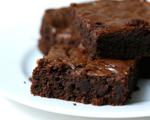 Prep: 15 min
Cook Time: 1 hr
Total: 1 hr 15 min
Serving:
If you're looking to satisfy your chocolate craving with some mouth-watering brownies, these chocolate squares from heaven are just for you!
Ingredients
2 sticks (1/2 pound) unsalted butter
5 ounces unsweetened chocolate
2 tablespoons instant-espresso powder
2 cups sugar
1 teaspoon pure vanilla extract
5 large eggs
1 cup all-purpose flour
1 tablespoon cinnamon
1/2 teaspoon salt
Directions
Preheat your oven to 350 degrees.
Spray and lightly flour a 13-by-9-inch baking pan. You can also use butter in place of cooking spray.
In a medium-sized saucepan over low heat, melt the butter and chocolate with the espresso powder, whisking with a wire whisk until it reaches a smooth consistency. Remove from heat and put aside.
When chocolate mixture reaches lukewarm temperature, whisk in the sugar and vanilla, followed by 1 egg at a time. Mixture should become smooth and have a glossy finish.
In a separate bowl, whisk together flour, cinnamon and salt, then add to chocolate mixture and whisk well.
Pour the batter into the pan and bake on the rack in the middle of the oven until a toothpick inserted into the center comes out with crumbs attached, about 25 to 30 minutes.
Let brownies cool completely before serving.