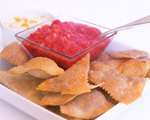 Prep: 15 min
Cook Time: 10 min
Total: 25 min
Serving: 8-10 People
A great alternative to regular chips and salsa, this recipe consists of a variety of fruit and crispy, sweet tortilla wedges.
Ingredients
2 kiwis, peeled and sliced
2 apples, peeled and sliced
2 cups raspberries, diced
2 cups strawberries, diced
1 tablespoon sugar
1 tablespoon brown sugar
2 tablespoons fruit preserve, any flavor
10 flour tortillas
1 cup butter, melted
1-2/3 cup sugar and cinnamon mixture
Directions
Preheat oven to 350 degrees.
Combine kiwis, apples, raspberries, strawberries, white sugar, brown sugar and fruit preserves. Chill in refrigerator for 15 minutes.
Coat both sides of tortillas with melted butter. Sprinkle cinnamon and sugar mixture on buttered tortillas.
Using a pizza cutter, cut tortillas into wedges and place on a baking sheet in a single layer.
Bake at 350 degrees for 10 minutes.
After tortilla wedges have cooled, serve with chilled fruit.