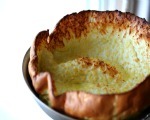 Prep: 10 min
Cook Time: 45 min
Total: 55 min
Serving: Serves 4-6 people
Fruit-filled Skillet Pancake Puff is a sweet treat for a bright breakfast or special brunch. The pancake collapses once removed from the oven, so have your favorite filling ready.
Ingredients
1 tablespoon of oil
2/3 cup of all-purpose flour
1/2 teaspoon of baking powder
1/4 teaspoon of salt
4 eggs
1 cup of milk
2 tablespoons of melted butter
1 teaspoon of cornstarch
1, 8-ounce can of pineapple chunks, drained and chopped (reserve the liquid)
1/2 cup of quick-cook oats
1 medium banana, sliced
Directions
Preheat your oven to 425 degrees. Use an ovenproof skillet for this dish. Put the oil in the skillet and heat it in the oven until it's hot (about 10 minutes).
Using a small bowl, combine the flour, baking powder, salt and eggs. Beat everything at a medium speed until well blended. Gradually stir in the milk and butter. Pour the batter into the hot skillet.
Bake for about 15 minutes. Reduce the oven temperature to 375 degrees. Bake until puffed and golden (about 10-12 minutes). There should be a well in the middle of the pancake and the edges will puff.
Using a small saucepan, combine the cornstarch and pineapple. Cook over medium heat until the mixtures thickens slightly. Fold in the banana and oats.
Remove the pancake from the oven and immediately spoon the fruit and oat mixture into the middle. Serve immediately, as the pancake will fall as it cools.