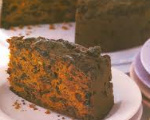 Prep: 15 min
Cook Time: 4 hr
Total: 4 hr 15 min
Serving:
Classic dried fruit and pecan cake.
Ingredients
4 cups cake flour
1 teaspoon mace
1 teaspoon nutmeg
3 teaspoons cinnamon
1/2 teaspoon baking soda
3 pounds dates
2 pounds seedless raisins
1 pound citron (sliced)
2 pounds pecans
1 pound butter
2 cups light brown sugar
10 egs (separated)
1 cup brewed coffee
Directions
Double sift together the flour, spices and soda. Add in fruits and nuts.
Beat the butter and sugar together until fluffy. Beat the egg yolks until thick the egg whites until stiff and mix into the butter mixture. Mix in the fruit and flour mixture. Add coffee. Stir until everything is well blended.
Pour into greased pans and bake at 300 degrees Fahrenheit for 3-4 hours.