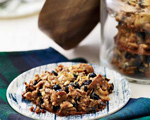 Prep: 15 min
Cook Time: 25 min
Total: 40 min
Serving: Makes 12 bars
These healthy fruit and nut bars are made with a mix of kamut flakes, pecans, cashews, figs, flax, dried blueberries and coconut. Grab one for a quick snack or enjoy their chewy and hearty texture with a glass of milk for breakfast.
Ingredients
1 cup kamut flakes
1 cup pecans
1/2 cup salted roasted cashews
1/2 cup agave nectar
1/4 cup smooth peanut butter
5 dried figs, stemmed and quartered
1 tablespoon flax seeds
1 tablespoon canola oil
Finely grated zest of 1 lemon
1 cup dried blueberries or currants
1/2 cup unsweetened coconut flakes
Directions
Preheat your oven to 325 degrees and then cover a baking sheet with parchment paper.
Place the kamut, pecans, cashews, agave nectar, peanut butter, figs, flax seeds, canola oil and lemon zest into a food processor and pulse until well chopped but still textured. Add the dried blueberries and the coconut to the mixture and continue to process until just combined.
Remove the mixture from the processor, shape into 12 bars and then place on the prepared baking sheet, leaving a 1-inch space between each bar. Place the bars in the oven for 25 minutes to bake, and then remove and allow to cool before serving.