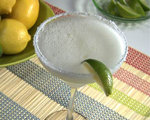 Prep: 10 min
Cook Time: –
Total: 10 min
Serving: 4 Servings
You don't have a real margarita unless you line the rim of the glass with salt. Make sure you use some lemon or lime juice to wet the glass rim; using water will just melt the salt.
Ingredients
Sea salt
1 lime or lemon wedge
3/4 cup lime juice, about 4 limes
1/2 cup lemon juice, about 2 lemons
1/2 cup tequila
1/8 cup Cointreau
1/2 cup sugar
2 3/4 cups ice cubes, about 16 cubes
Directions
Place some sea salt on a piece of wax paper.
Lightly dampen the rims of the cocktail glasses with a lime or lemon wedge, and then dip each rim into the salt to coat.
Place the rest of the ingredients into a blender and blend on high to combine.
Pour the mixture into the prepared cocktail glasses and serve.