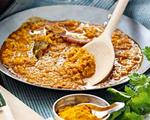 Prep: –
Cook Time: –
Total: –
Serving:
Sauces are wonderful for freezing. You can pull a delicious sauce out of the freezer and add it to just about anything from meat to vegetables for a quick and tasty meal.
Ingredients
2 cloves garlic
1 inch ginger, peeled and finely chopped
1 cinnamon stick
2 green cardamom pods
1 whole clove
2 tablespoons vegetable oil
1 teaspoon cumin seeds
1 medium red onion, finely chopped
1-2 hot green chilis (optional)
1 cup diced or crushed tomatoes (fresh or canned)
Salt to taste
1 teaspoon coriander powder
1/2 teaspoon turmeric
2 tablespoon fresh chopped cilantro
Directions
Combine the garlic and ginger in a blender to make a paste. Set aside.
In a medium saucepan pan, dry roast the cardamom, cinnamon and cloves at medium heat until they are fragrant. Take care not to burn them.
Add the oil to the saucepan and heat through. Add the cumin seeds and saute until they start to brown.
Add the onion and green chili. Stir well then continue to stir occasionally as the onion becomes soft and translucent.
Add the garlic and ginger paste. Reduce the heat to low and saute for about 5-8 minutes, scraping the bits of paste off the bottom of the pan.
Add the tomatoes and stir well.
Add the salt, turmeric and coriander powder. Stir occasionally while you let the liquid in the saucepan reduce
When the sauce is thick, remove from heat, cool completely and freeze.