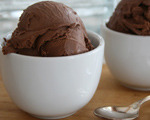 Prep: 4 hr 30 min
Cook Time: 6 min
Total: 4 hr 36 min
Serving: Makes about 1 quart
This dessert recipe merges a gelato and custard-style concoction together to form a rich and creamy treat. You'll need an instant-read digital food thermometer to regulate the temperature of the cocoa mixture while cooking.
Ingredients
3/4 cup unsweetened cocoa powder
3/4 cup sugar
2 eggs, slightly beaten
1 cup original almond milk
1-1/2 cups whipping cream
Directions
Place the cocoa powder and the sugar into a large saucepan and whisk vigorously until blended. Slowly whisk in the almond milk, making sure it blends well into the mixture, and then slowly whisk in the eggs.
Put the pan over medium heat and cook, stirring constantly to prevent sticking, until your food thermometer reads 175 degrees.
Take the pan off the heat and then mix in the whipping cream. Set the mixture aside to cool to room temperature before covering and placing into the freezer for at least 4 hours.