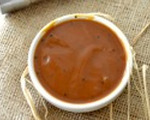 Prep: 5 min
Cook Time: 30 min
Total: 35 min
Serving: Yields about 3-1/2 cups of sauce
Don't let the misconception that homemade barbecue sauce is hard or tedious to make stop you from trying it. One taste of this from scratch whiskey barbecue will make you a firm believer of homemade sauce. No bottle compares to this smoky, tangy and incredibly flavorful sauce. Pour this finger-lickin' delicious sauce over your favorite spare ribs, pulled pork or chicken sandwich!
Ingredients
1/2 onion, chopped
2 cloves of garlic, minced
3/4 cup whiskey (we used Jack Daniel's)
Salt and pepper
1-1/3 cup organic ketchup
1/4 cup dark molasses
1/3 cup apple cider vinegar
2/3 cup brown sugar
Dash of sugar
1 teaspoon spicy mustard
2 tablespoons liquid smoke flavoring (optional)
2 tablespoons olive oil
1-1/2 teaspoon Worcestershire
Directions
Over medium heat in a large skillet, heat the olive oil. Add the onions and the garlic and cook them until they are fragrant, about 2 minutes. Pour in the whiskey and reduce the heat. Simmer the mixture about 10 minutes and then stir in the salt, pepper, ketchup, tomato paste, spicy mustard, Worcestershire sauce, brown sugar and the apple cider vinegar. For a smokey sauce, add in some liquid smoke.
Raise the heat and bring the entire mixture to a boil. Then, reduce the heat again and let it simmer for 30 minutes, or until it is thick and bubbly. Pour the mixture into a blender and pulse it until smooth. Serve with an extra crack of black pepper.