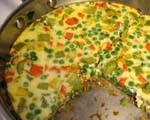 Prep: –
Cook Time: –
Total: –
Serving: Serves 4
This fritatta with peas and carrots is perfect as a vegetarian main dish or a lovely side.
Ingredients
1 tablespoon vegetable oil
1, 15-ounce can Libby's sweet peas, drained1 can (15 oz.) Libby's sliced white potatoes, drained
6 large eggs
1 teaspoon dried Italian herb blend
1/2 teaspoon salt
1/4 teaspoon pepper
1/2 cup grated Parmesan cheese
Directions
Preheat broiler. In a 10-inch nonstick skillet, heat oil over medium heat.
Add peas and potatoes; cook, stirring gently, until heated.
In a bowl, whisk eggs, herb blend, salt and pepper. Pour over potatoes and peas and reduce heat to medium-low.
With a rubber spatula, lift up the cooked part of the frittata and tilt the skillet to allow the uncooked eggs to run underneath. Continue cooking, occasionally lifting the frittata and tilting the skillet as described above until the top is almost set, approximately 5 minutes.
Sprinkle with the cheese. Broil about 6 inches from the heat source about 1 minute or until the frittata is puffed and the top is set.