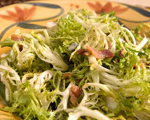 Prep: 10 min
Cook Time: 6 min
Total: 16 min
Serving: 4 Servings
Although this is a salad, it is actually an intensely rich and flavorful dish made with warm bacon fat, Gorgonzola cheese, and sherry dressing.
Ingredients
6 slices bacon, cut into thin strips
4 tablespoons Gorgonzola cheese
2 tablespoons sherry vinegar
Sea salt and freshly ground black pepper
6 cups cleaned frisee (3-4 heads), torn into pieces
Directions
Place the bacon strips into a medium-sized skillet over medium heat and cook for 6 minutes until crisp.
In the meantime, spread the Gorgonzola cheese on the bottom of a serving bowl. Remove the hot bacon fat from the skillet and spoon over the cheese. Let the mixture stand for 2 minutes and then add the vinegar and a few pinches of salt and pepper, and whisk to combine.
Add the frisee and bacon to the bowl and gently toss to coat. Serve immediately.