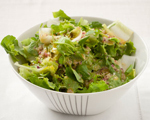 Prep: 20 min
Cook Time: –
Total: 20 min
Serving: 10 servings
This light and fresh salad, drizzled with lemon mustard vinaigrette, is a great salad starter dish for picky eaters due to its simple yet delicious taste.
Ingredients
1 pound endive (about 3 medium)
5 ounces frisee, torn into bite-size pieces (4 cups)
1 bunch watercress, coarse stems discarded (2 cups
2 tablespoons minced shallot
Salt and freshly ground pepper
1/2 teaspoon sugar
2 tablespoons fresh lemon juice
2 teaspoons Dijon mustard
1/4 cup extra virgin olive oil
Directions
Using a sharp knife cut the endive, crosswise, into 1-1/2-inch sections and then remove and discard the cores.
Place the endive, frisee and watercress into a large salad bowl and toss to combine.
In a small bowl, place the shallot, salt and sugar together, stir to combine, and then let stand for 6 minutes to allow flavors to blend.
Add the lemon juice and mustard to the shallot mixture and whisk until blended.
Slowly pour in the olive oil, while whisking vigorously, and then add a sprinkle of salt and pepper.
Drizzle the salad with the vinaigrette right before serving, and then toss to coat.