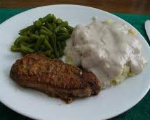 Prep: 1 hr 10 min
Cook Time: 20 min
Total: 1 hr 30 min
Serving: 4 servings
Fried buttermilk soaked venison steaks.
Ingredients
2 pounds venison steak
1 cup buttermilk
1/4 cup water
1 teaspoon salt
1/2 teaspoon pepper
1 cup flour
Directions
Combine the buttermilk and water in a bowl. Place the steaks in the bowl and allow to soak for 1 hour. Drain.
Sprinkle the salt and pepper onto the steaks. Use a meat tenderizer to pound both sides. Roll in flour until well coated.
Place the steaks in 1/2 inch of hot fat until lightly browned, turning only once.