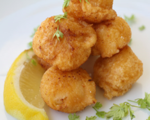 Prep: 20 min
Cook Time: 12 min
Total: 32 min
Serving: 6
You can use these scallops as an appetizers or a main dish.
Ingredients
2 pounds scallops
1 egg, beaten
1 tablespoon milk
1 teaspoon salt
1/4 teaspoon black pepper
1/2 cup flour
1/2 cup dry bread crumbs
Directions
Cut large scallops in half.
In a bowl combine egg, milk and seasonings.
Combine flour and crumbs in another bowl.
Dip scallops in egg mixture and roll in flour and crumb mixture.
Place scallops in a heavy frying pan which contains about 1/8 inch of salad oil.
Fry on medium heat.
When scallops are brown on one side turn carefully and brown the other side.
Drain on a paper towel.