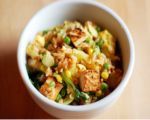 Prep: 15 min
Cook Time: 25 min
Total: 40 min
Serving: Serves 4-6 people
And easy, filling and yummy recipe, Fried Rice with Tofu & Vegetables makes a great meal, and even better leftovers!
Ingredients
8 ounces extra-firm tofu, drained and cut into cubes
2 eggs, lightly beaten
1 teaspoon low-sodium soy sauce
1 teaspoon sesame or vegetable oil
1 garlic clove, minced
1 tablespoon cooking oil
1 stalk celery, thinly cut
1 cup fresh mushrooms, sliced
1, 8-ounce pouch of prepared white rice
1 medium-sized carrot, shredded
1/2 cup frozen peas, thawed
2 tablespoons low-sodium soy sauce
2 green onions, sliced
Directions
Using a small bowl, whisk together 1 teaspoon soy sauce and the eggs. Set aside
Add the sesame oil to a medium-sized skillet over medium heat. Add the egg mixture and the garlic. Stir together continually until the egg looks cooked, but there is a bit of liquid to them. Cook for about a minute more, but don't stir them. Slide the egg mixture onto a cutting board and cut the egg into small pieces. Set aside.
Add the cooking oil to the skillet over medium-high heat. Add the celery and cook for about a minute. Add the mushrooms and cook for another few minutes.
Add the rice, tofu, carrot and peas to the skillet. Add the 2 tablespoons of soy sauce and cook for several minutes until everything is heated through. Add the eggs and green onions to the mixture and cook, stirring, until everything is heated through.