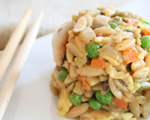 Prep: 10 min
Cook Time: 10 min
Total: 20 min
Serving: 4 Servings
This dish may remind you of fried rice but it is actually made with orzo; rice-shaped pasta also known as 'risoni.' Use leftover chicken and vegetables from the night before, and enjoy this dish as a satisfying lunch.
Ingredients
4 orzo
Leftover cooked chicken, and vegetables, chopped
1/2 cup frozen green peas
3 eggs, beaten
1 tablespoon canola oil, divided
1 tablespoon dark sesame oil
soy sauce
pinch of sugar
sea salt
freshly ground pepper
Directions
Cook the orzo according to package directions and then drain well.
In the meantime, place 1/2 tablespoon of canola and the sesame oils into a large sauté pan or wok over medium heat. Once the oil begins to shimmer, add the eggs and cook until just set and then remove from the pan.
Add the remaining canola oil to the pan along with the leftover chicken and vegetables, and the peas. Stir-fry the mixture for 3 minutes and then add the cooked orzo and the eggs. Cook for an additional 3 minutes and then season to taste with soy sauce, a pinch of sugar and a few pinches of salt and pepper. Serve immediately.