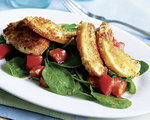 Prep: 30 min
Cook Time: 16 min
Total: 46 min
Serving: 4 Servings
A simple salad with lots of flavor and texture; the fried mozzarella offers a crunchy exterior and creamy filling which pairs wonderfully with the peppery arugula and salty prosciutto.
Ingredients
2 bunches arugula, washed, dried, coarse stems discarded
5 ounces thinly sliced prosciutto, each slice cut into half
2 cups cherry tomatoes, cut into half
1/3 cup Kalamata black olives
1/2 cup thinly sliced red onion
2 tablespoons lightly toasted, shelled sunflower seeds
Sprinkle of salt and freshly ground pepper
2 large egg whites
1/2 teaspoon salt
1/2 teaspoon pepper
1 cup fine dry bread crumbs
2 cups olive oil for frying
1 pounds salted fresh mozzarella, cut in 4 slices
Directions
Evenly divide the arugula between 4 plates, and then the prosciutto pieces, tomatoes, olives and onion.
Sprinkle the salad with salt and pepper, and then with the toasted sunflower seeds. Drizzle with a balsamic cream glaze and then set aside.
In a shallow bowl, whisk the egg whites together with the 1/2 teaspoon of salt and 1/2 teaspoon of pepper. Place the bread crumbs in another shallow bowl next to the egg whites.
Dip each slice of mozzarella into the egg mixture and then dredge into the crumbs. Repeat by dipping mozzarella for a second time into the egg whites and again into the crumbs in order to create a thick double layer. Repeat with all the slices and set aside on a plate.
In a medium-sized sauté pan, heat the oil over medium-high heat until hot but not smoking. Add the coated mozzarella and fry for about 2 minutes per side until the cheese is golden and starts to melt, without losing its shape.
Place on a plate with paper towels to drain and then transfer to the prepared salads. Serve immediately.