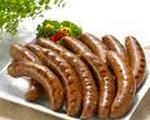 Prep: 10 min
Cook Time: 35 min
Total: 45 min
Serving: 6
Fried Knackwurst and Potatoes has added protein with the addtion of fried eggs.
Ingredients
4 eggs
salt
1 tablespoon olive oil and 6 tablespoons butter
1, 16 ounce package knackwurst, cut into 1/2 inch pieces
6 medium potatoes, unpeeled and cut into 1/4 inch thick slices
1 medium onion, chopped
1 tablespoon chopped parsley for garnish
Directions
In small bowl with fork, beat eggs and 1/4 teaspoon of salt. In 12 inch skillet over medium heat, heat oil until hot. Pour egg mixture into hot oil, tilting skillet to coat bottom of skillet evenly with egg mixture. Cover and cook 4 minutes until egg mixture is set. Slide egg onto a cutting board and cut into very thin strips; set aside and keep warm.
In same skillet over medium heat, in 1 tablespoon butter, cook knackwurst until browned. Remove to a medium bowl and keep warm.
In same skillet, melt 5 tablespoons butter; add potatoes, onion, and 1/4 teaspoon salt; cook potato slices until golden on bottom. Reduce heat to low; cover and cook 5 minutes. With spatula, turn potatoes; cook over medium heat until browned on other side. Reduce heat to low; cover and cook 5 to 10 minutes longer until potatoes are tender.
Return knackwurst to skillet; gently combine potatoes and knackwurst with spatula and heat through. Arrange potato mixture on warm platter; arrange egg strips around potato mixture; sprinkle with parsley.