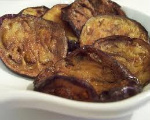 Prep: 50 min
Cook Time: 20 min
Total: 1 hr 10 min
Serving: 6-8 servings
Ingredients
1 medium eggplant
4 cups water
1 teaspoon salt
1/2 teaspoon pepper
2 eggs
1/2 cup milk
3/4 cup flour
Directions
Peel the eggplant, slice thinly. Add 1/2 teaspoon salt to the 4 cups of water and soak the eggplant for 30 minutes. Drain.
Combine the salt and pepper with the drained eggplant, and let set for 10 minutes.
Beat together the eggs and milk to make a batter. Dip the eggplant in the mixture and then roll in the flour.
Fry in fat until golden brown.