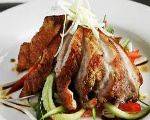 Prep: 30 min
Cook Time: 1 hr
Total: 1 hr 30 min
Serving: 4-6 servings
Battered and fried duck recipe.
Ingredients
1 duck
1 cup flour
2 teaspoon salt
1/2 teaspoon pepper
1/4 teaspoon red pepper
2 tablespoon paprika
1/4 cup butter
4 tablespoons shortening
1/4 cup water
Directions
Chop the duck into serving pieces.
Combine the flour, salt, pepper, red pepper and paprika in a brown paper bag.
2-3 pieces at a time, drop the duck into the bag and shake to coat.
In a skillet, heat the butter and shortening. Drop the duck pieces in and fry until lightly browned on both sides. Add the water, reduce the heat and cover. Summer until tender.