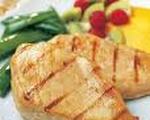 Prep: 20 min
Cook Time: 15 min
Total: 35 min
Serving: 4
Fried Chicken Salad is a picnic favorite and should be served on a red checkered tablecloth.
Ingredients
4 boneless, skinless chicken breast halves
1/3 cup cornmeal
1/3 cup flour
3/4 teaspoon salt
1/2 teaspoon freshly ground pepper
1/4 teaspoon cayenne
1/2 cup buttermilk
1 tablespoon Dijon mustard
3/4 cup vegetable oil
1/2 cup vinaigrette dressing
10 cups mixed salad greens
1 cup cherry tomatoes, halved
3/4 cup carrot, shredded
Directions
Pound chicken between wax paper to 1/2 inch thick.
In pie plate stir cornmeal with flour, salt, pepper, and a cayenne. Whisk buttermilk and 1 teaspoon of the mustard in another pie plate, to blend.
In a large skillet, heat oil over medium-high heat. Dip chicken in buttermilk to coat, letting excess drip off; coat with cornmeal mixture.
Fry chicken, until browned and cooked through, about 3 to 4 minutes per side. Remove to a paper towel-lined cookie sheet.
Whisk remaining 2 teaspoons mustard into vinaigrette. In a large bowl, toss salad greens, tomatoes and carrots with 1/4 cup vinaigrette. Slice chicken. Place salad on plates and top with chicken. Serve remaining vinaigrete on the side.